Father's Day this year falls on the 21st of June and with the COVID-19 restrictions still only in phase 2, it will certainly be a unique one. It's often very hard to know what to buy the "ould lad". You don't want to get them something they already have, and you definitely don't want to get them something they won't use. If you're thinking of going all out on your Dad this year, make sure you consider getting him an electric bike.
E-bikes are the ultimate bicycle for comfort and ease of travel. They're great for going on adventures without tiring out, and are ideal for those who would like to put the days of painstaking hill-ascending behind them. Electric bikes are ideal for touring about and getting to see new parts of the country, which may come in handy over the next few phases of restriction lifting!
Electric bikes aren't a cheap gift that will "do the job" or a present that can be thrown away if unwanted, but they are a gift for life that could really open up new avenues for someone, and will still retain much of their value after a few years. It could be something that a few siblings could go together and buy, or something that doubles up as a birthday/anniversary present! You'll also be supporting a small family business and supporting renewable methods of transport.
Electric bikes, as explained on our About E-Bikes page, give you the same feeling of freedom that you always get when out cycling, but with less strain as the motor assists you along the way. This makes them ideal for the Irish coastal terrain and for anyone who's sick of struggling up hills.
We have a wide range of electric bikes available from our store. If buying an e-bike is out of your price range, we can put together a one-day e-bike tour in South West Donegal as a way of getting to see a bit of the county, as well as getting to try out an electric bike.
Additional information can be got by emailing us at info@donegal-ebikes.ie or on our website.
Lá na nAithreacha sona daoibh!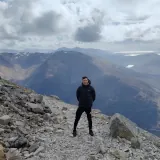 Brian, son of owners Séamus and Nóra, was one of the first team members at Donegal Ebikes, having built our original website.  He is a sports fan and lover of Ireland's outdoors, and has summited many of our highest peaks.  Brian now works as a Business Development Officer with An Droiched Irish language organisation