Bosch is a well-known German manufacturer of e-bike components. They lead the high-end market for e-bike drive systems. Indeed, most new models at Donegal E-Bikes come with Bosch drive systems:
Bosch Ebikes in Stock at Donegal Ebikes:
Do Bosch make e-bikes?
Bosch do not make or sell complete e-bikes.
However, they do produce drive systems for e-bikes. The drive system is arguably the most important part of an e-bike, so Bosch have a key role in the e-bike industry.
An e-bike drive system has three main parts. So let's consider each in turn.
Motors
Batteries
Display/Controller
Bosch E-Bike Motors
Bosch only produces mid-drive e-bike motors (motors that sit between the pedals).
This makes Bosch e-bike motors well-suited to hilly conditions, as they can use the bike's gears to increase torque.
Bosch motors are also known for high-quality pedal pressure sensing. This means you'll get smooth and natural-feeling assistance from the motor when you push the pedal. So it's extremely easy to adapt to cycling a Bosch e-bike, even if you've never cycled an e-bike before.
Bosch motor options include Active Line, Active Line Plus, and Performance Line.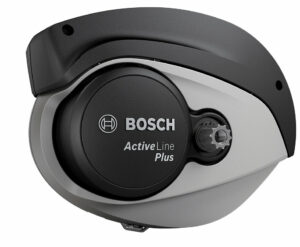 Bosch E-Bike Batteries
Bosch e-bike batteries come in various shapes for mounting on the bicycle frame, inside the bicycle frame, or on a rack over the rear wheel. However, they all share the same lithium-ion chemistry for a high power-to-weight ratio.
The capacity of Bosch e-bike batteries ranges from about 300 Wh to 750 Wh. Range depends on many factors, including your riding style, weather, hills, and more. But as a rough guide, the smallest battery should be good for around 40 km of range, while the largest battery will assist you for around 100 km on a single charge.
Bosch E-Bike Displays/Controllers
Bosch e-bike controllers are typically straight-forward and simple. They show information on battery charge level, speed, and distance. And they can be used to set the power assistance level from the motor and turn on the lights. Bosch e-bike controllers also typically have a backlight, so you can easily read the screen at night.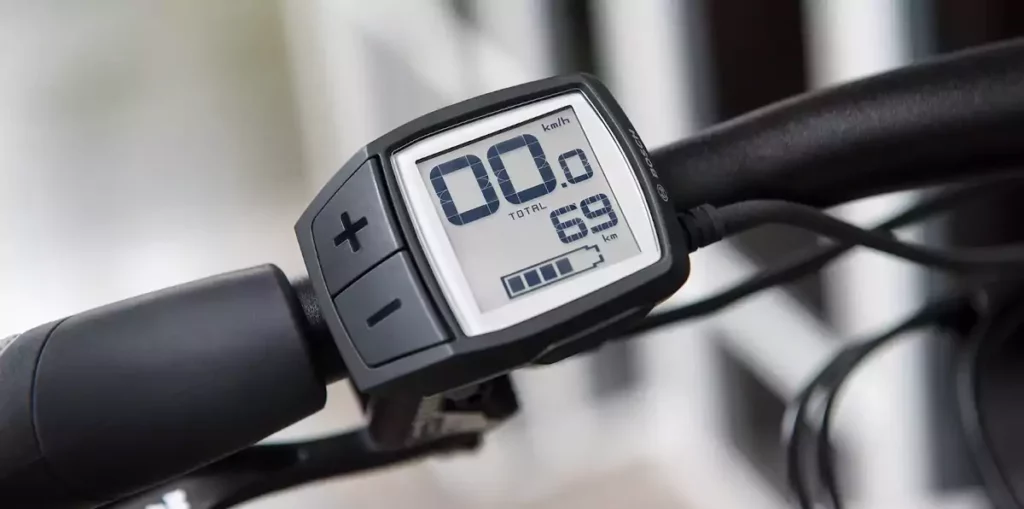 Are Bosch e-bikes available in Ireland?
E-bikes with Bosch drive systems are available and popular in Ireland. But as mentioned, Bosch do not sell complete e-bikes in Ireland (or anywhere). See our products page for e-bikes with Bosch drive systems for sale in Ireland.
How much do Bosch e-bikes cost in Ireland?
Bosch only makes medium and high-end e-bike components. Here's a rough guide to prices:
| | | | |
| --- | --- | --- | --- |
| Price Point | Example Drive System | Example Use Cases | Sample Products |
| €2,500 – €3,000 | Active Line Motor. 350 Wh Battery | Typical commuting/pleasure cycles | Gepida Alboin |
| €3,000 – €3,500 | Active Line Plus Motor. 500 Wh Battery | Year-round commutes/long pleasure cycles | Gepida Bonum Edge |
| €3,500+ | Performance Line. 650 Wh battery | Serious mileage/ off-road | Gepida Legio Pro |
You can save up to ~€750 off the above prices with the cycle to work scheme for e-bikes.
Are Bosch e-bikes a good choice in Ireland?
We are fans of Bosch e-bikes at Donegal E-bikes, and have chosen to stock mostly Bosch models. Here's why:
They feel good to cycle: Bosch e-bikes achieve a balance of sturdiness, power, and smoothness that makes them comfortable and satisfying to ride. It's something that can only really be experienced by trying for yourself, so drop by for a test ride!
Excellent spares and warranty backup: Bosch is exceptionally quick to supply replacement parts, both under and outside of warranty. This is great for our customers… and great for us! Moreover, given the huge popularity of Bosch e-bikes, you can also find spare parts from third-party sellers if you prefer.
Features and performance: Bosch has been making e-bike drive systems for a long time now. And over the years, they've gradually perfected their products. Today, their systems work well out of the box, and keep working as they should for many years on the road.
Bosch e-bikes for sale in Ireland
We have Bosch Ebikes in stock. Read our Bosch Ebikes catalogue online, visit in-store, or call 0874522580 now.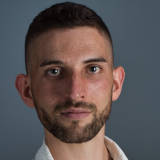 Dominic maintains the Donegal Ebikes website.  He enjoys mountain biking, and previously worked as a bicycle mechanic for Ireland by Bike.